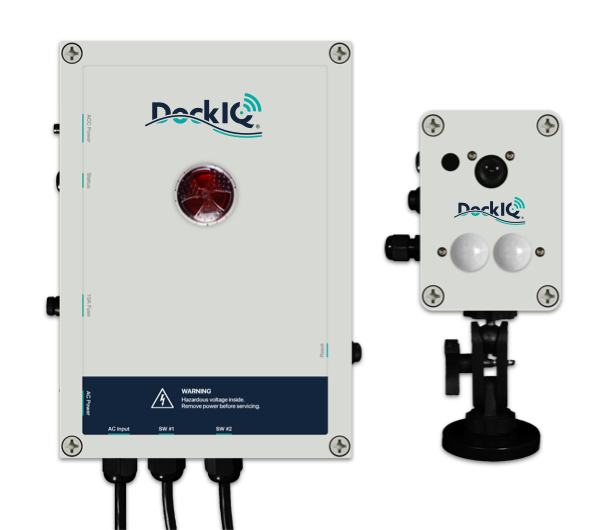 DockIQ has developed a Smart Controller that communicates with High-Res Camera / Motion Sensors to monitor your dock, boats, and water to prevent theft and dock damage.
ShockIQ helps protect against Electric Shock Drowning by communicating with the mobile app via our cellular internet and notifies the dock owner of problems, even when away.
Information at your fingertips
The DockIQ App communicates with DockIQ to give you instant information on your dashboard for 24 hour monitoring and alerts.
DockIQ App Features

Instant alerts for power outages, motion detected & electric shock detection

Access the camera via the app to see your boats, dock, and to check water levels

View GPS Tracked Items on a map

Create an automated lighting schedule

Remotely turn dock lights on and off

Remotely arm and disarm dock security

Notify your dock dealer of services needed and easily pay through the App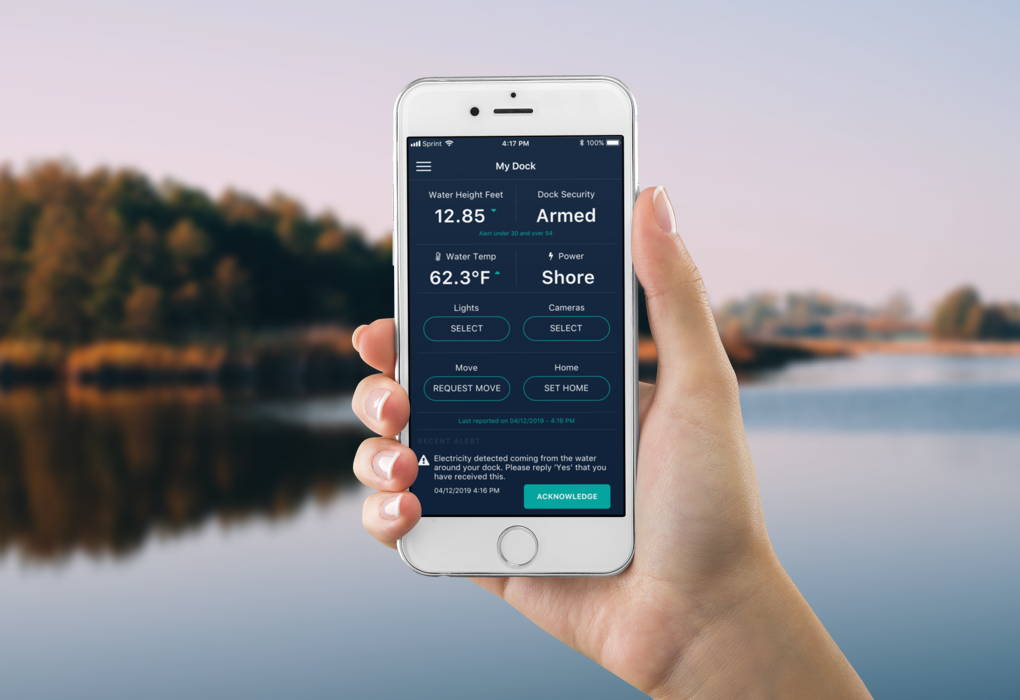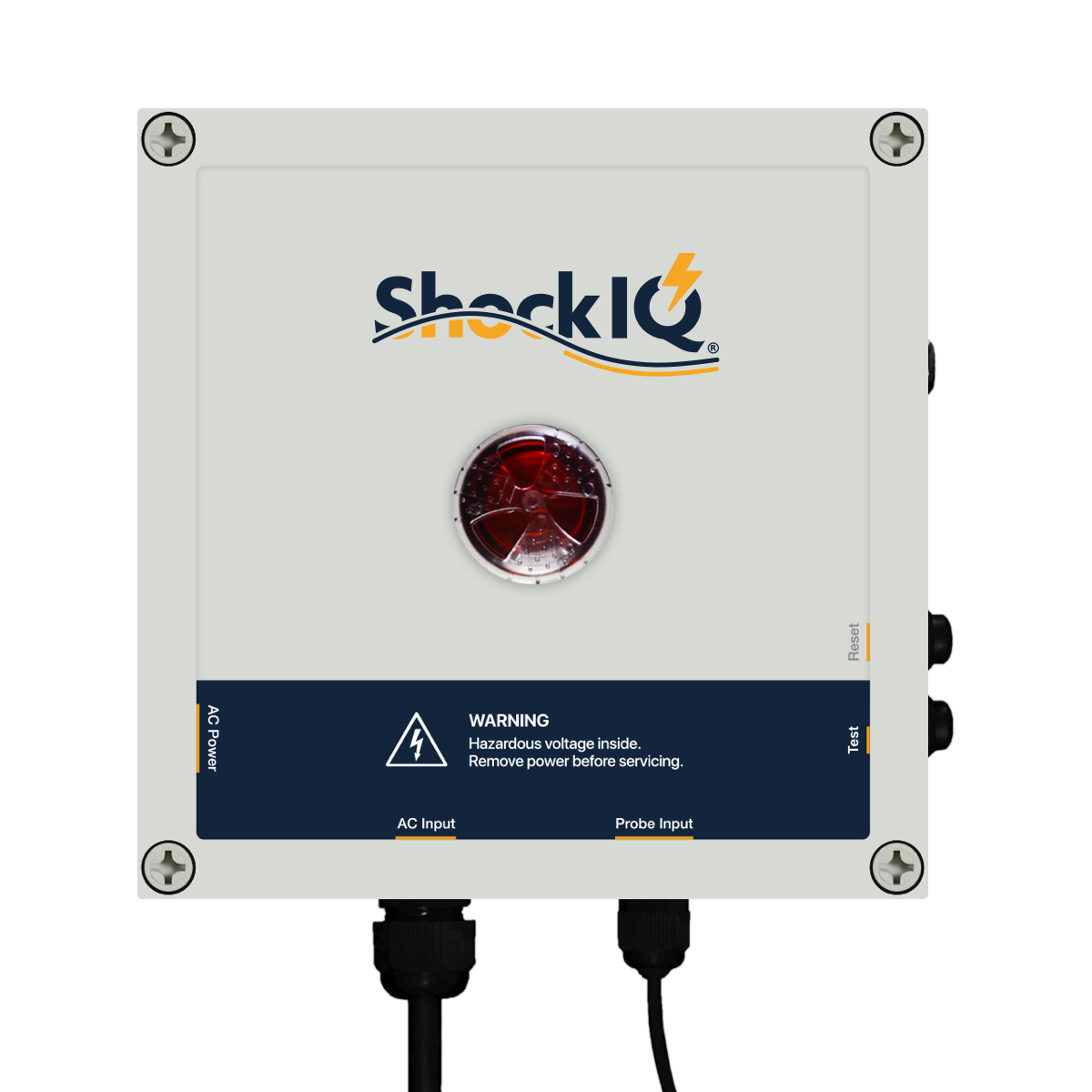 ShockIQ can prevent "Electric Shock Drowning" by monitoring your dock frame and water for stray electric current. ShockIQ has two leads to monitor your metal dock frame and the water around your dock for stray electric current.

If Electric Current is Detected
1. ShockIQ turns on the red light and sound the siren
2. Immediately shuts off power to the dock
3. Instantly sends text messages and notifications to the App
4. Alerts neighbors and family of danger
5. 24-hour battery backup continues to monitor the threat
ShockIQ shuts off the power to your dock if electric current is detected, potentially saving lives!
Real-Time Dock Management
Fluctuating water levels due to weather patterns and power requirements continue to "ground" docks, thus costing dock owners thousands of dollars in damages each year. To prevent damage to docks, lifts, and boats as well as theft and potential loss of life, docks must be monitored with sensors, video and communications providing mobile alerts/notifications. This is currently not available to dock owners nor dock dealers. Onsite visits by dock dealers is expensive, inefficient and not scalable. DockIQ provides a unique mobile, dock technology and notification system that will manage and monitor each dock in parallel for dock owners and dock dealers.
Manage and monitor docks remotely via a Mobile App and Mobile Management System
Receive automatic alerts via notifications, email, and text
Communicate with each dock to provide water depth and location via GPS
Provide video to monitor shoreline, dock wheels, poles, and personal items
Safety and Theft Protection all in one easy solution
The ShockIQ Sensor detects electrical current in the water and sends alerts within seconds of danger
Know where your boat, jet skis, or any other personal items are at any time when friends or family are on the water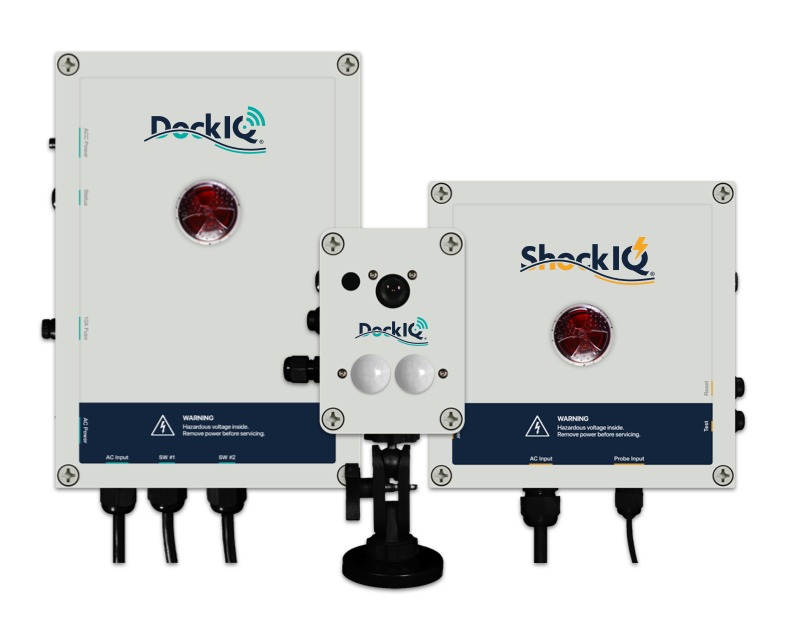 The DockIQ Boat Tracker sends alerts if your boat moves from the home location
DockIQ IP Cameras are easy to install and let you see your dock, boat, and personal items at any time
Protecting Docks, Boats, and Life
The fun you have on the water is priceless and you've made a big investment for your lake life. Find peace of mind with DockIQ Smart Dock Security Products.
Keeping your dock, boats, and family safe
Watch how DockIQ Smart Dock Security Products can keep your dock, you boat, and your family safe.