Smart Dock Security System
DockIQ is the worlds first residential smart dock security system developed for the marine environment. DockIQ's Smart Dock System communicates with your mobile app to monitor your dock, boats, and water level to prevent theft and dock damage with high resolution motion cameras and other devices.
Connect DockIQ to the internet using your own WIFI or the DockIQ cellular modem (fees do apply)
The Power of Mobile App Technology
The DockIQ App communicates with your DockIQ controller to give you instant information 24/7 with real-time monitoring and alerts. The app is included free with every system and is supported on your Apple (iOS) or Android phone. Using the home screen, you have access to the most critical data all in one screen.
1. Lake Levels
2. Arming security

3. Shore power status – Shore or Battery

4. Connected lights control (up to 2)

5. Taking pictures with installed camera(s)

6. Viewing real-time controller status
7. View recent alerts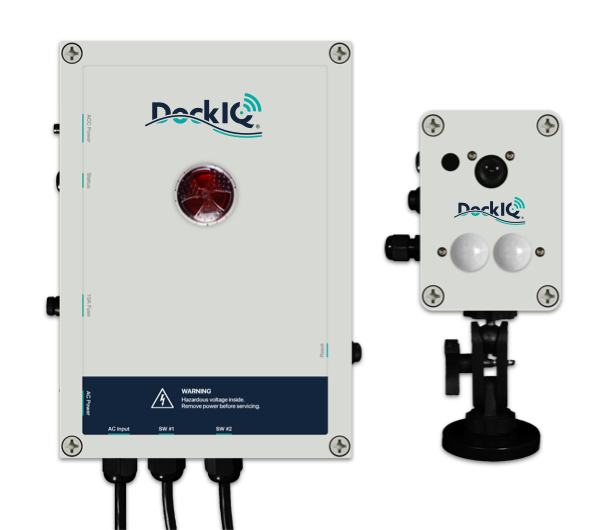 How DockIQ Security Works
If someone breaches your dock:
1. The IR Camera(s) will detect motion and thermal energy. DockIQ will then turn on the lights at the dock and begin snapping photos.
2. The photos are instantly scanned with facial recognition software to confirm a person is on the dock.
3. If a human is detected DockIQ activates the siren/warning light and immediately sends alerts to the app, email, and SMS with the photos of the trespasser
Display to show if you dock has power or not
Set thresholds and get alerted when your dock needs to be moved
Shows current lake levels, coincides with Approx. Depth Settings
Scheduling when you want your dock lights to be on and off
Scheduling when you want your dock security to be armed/disarmed
Easily find your dock in cases where it breaks from anchoring cables
One place to manage all of your devices and settings
Your status activity and the timestamps of when they took place
Take comfort knowing that your dock is exactly where it should be
Unlimited photo storage for on demand photos and security events
Easily add cameras, ShockIQ, or GPS with a quick QR scan
Add additional contacts to receive all alerts